This Saturday I'm giving a conference presentation, to discuss how learning the Alexander Technique can help people with hypermobility – I'll come back to this topic next time. The talk that will precede my one is about mindfulness. So, why did I decide to call my presentation Embodying mindfulness through the Alexander Technique?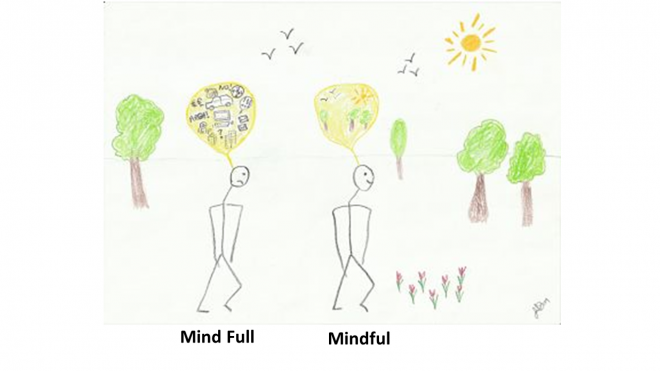 Many of you will be familiar with this cartoon of having your mind full rather than being mindful – it's all too easy to get too caught up in our busy lives, impacting our health and wellbeing. Practices such as mindfulness can help us be more present, and so can the Alexander Technique.
So how do they differ? I've made an attempt to portray how this cartoon might look if we consider it from the perspective of the Alexander Technique:
Through learning the Alexander Technique we gradually become more present but as a whole mind-body self – we're very much part of the picture, not just looking out (or inwards) from the mind – you could describe it as embodying mindfulness.
So the Alexander Technique is not a meditation practice, or indeed any kind of practice or exercise that you perhaps do for a certain amount of time each day or week, but rather it's a way of thinking and being that is with you all the time as you go about your daily life.
FM Alexander was around long before our culture took up mindfulness with such enthusiasm. In his time, Alexander was described as Zen for the Western world. For him the mind/body is indivisible – whatever you are thinking now will be playing out physically in some way and vice versa. So he was a bit ahead of his time. At least the wider world now acknowledges that the mind and body are linked – but a linkage still implies two separate entities!
The Alexander Technique is a method for self-care and for change. It enables us to have more choice over how we respond to what life throws at us. Alexander teachers use hands on and spoken guidance to enable people to learn on both experiential and cognitive levels – they will be shown how they can quieten their over-active mind-body and improve their general standard of functioning – their breathing, postural support, balance and movement. In so doing, they generally discover a different and more confident sense of themselves.
The Alexander Technique and mindfulness are complementary, and both help people feel calmer and more in control. I would argue that learning the Alexander Technique has a greater potential to transform people's lives because it works at such a fundamental level – how we react, how we move, how we breathe. But it is not a quick fix and it is not as accessible as some mindfulness interventions – you can't just download an app. Learning the core Alexander skills and gaining sufficient understanding to apply it in your own life usually requires some one-to-one lessons. Not everyone has the time, money, or inclination for that but for those who are able to make that personal investment, it's unlikely they will be disappointed.